Innovative & Safe Polymer Technology | ECOS
Patented Technology to Restrict Bio-accessibility of Cobalt
Regulatory changes have led to uncertainty around the future use of traditional cobalt technologies, particularly in consumer applications like the coating and printing ink industry.  

In response to this, we have developed our ECOS portfolio using unique, patented technology. The ECOS products incorporate metal into a polymeric structure, limiting its bio-accessibility and providing a safer option.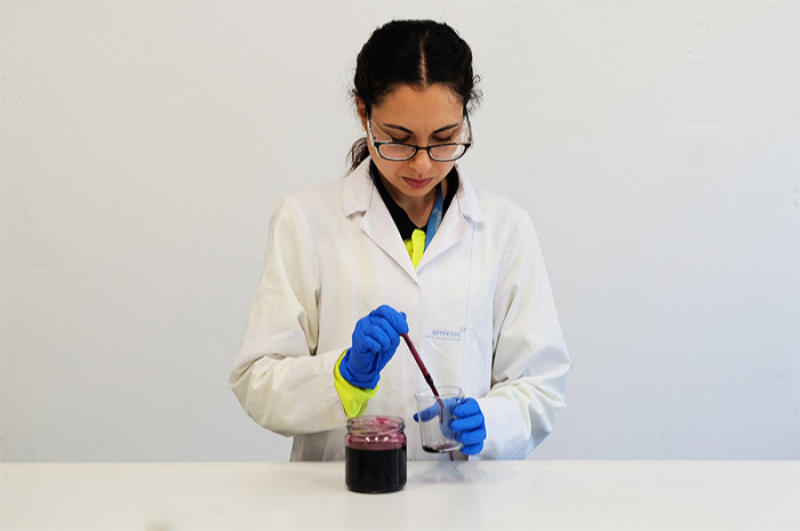 Regulatory and Sustainability Concerns for Cobalt Siccatives in Inks and Coatings
Cobalt metal and its compounds are facing increasing examination due to toxicity concerns and reclassifications worldwide. The introduction of the EU REACH framework specifically has cast doubts on the future use of cobalt-based carboxylates in oxidatively curing coatings.  

Inorganic cobalt salts such as cobalt sulphate have been classified as carcinogenic by inhalation (Cat 1B). 

The high solubility and bio-accessibility of commonly used cobalt carboxylates can lead to systemic toxicity, causing considerable concerns. This is particularly worrying due to their use as driers or siccatives in high-exposure applications like inks and coatings.  
Cobalt octoate, for instance, is labelled as highly acute aquatic toxic and reprotoxic Cat 1B. Further, cobalt neodecanoate is marked as acute aqua toxic and STOT RE1 for gastro-intestinal irritation, with a possible reprotoxic Cat 1B classification pending. 

Ongoing studies aim to establish the precise carcinogenic classification of these carboxylates. 
Moving Beyond Traditional Cobalt Chemicals – ECOS Paint & Ink Driers
While classification concerns present significant challenges for the industry, they also pave the way for innovation and progress. At Umicore, we treated the challenges associated with traditional cobalt carboxylates as an opportunity to offer a comprehensive solution - our ECOS product line. ECOS products incorporate metal into a polymeric structure, limiting its bio-accessibility and offering a safer alternative. 
It's worth noting that while polymers are currently exempted from REACH, Umicore has preemptively prepared a complete toxicity file for this technology, keeping an eye on potential future changes. We are fully prepared for the anticipated registration deadline, expected no earlier than 2035.

The drying performance of our products remains very similar to reference products, delivering excellent results in stability, hardness, skin formation, gloss, and resistance to yellowing. These results were obtained in tests carried out in combination with our MEKO-alternative anti-skinning agent, "VALIREX NOVAL NEXT". 
Cobalt-free Drier – Manganese Polymer Technology
ECOS MND 10, a complexed manganese polymer, can be used as one-to-one replacement for traditional cobalt-based ink and paint drying agents. This product allows coating producers to confidently create cobalt-free formulas, offering a sustainable and effective drying solution. 



ECOS MND 10  
Manganese polymer drier. 
Excellent drying properties and an improved loss of drying.
Cobalt Polymer Technology
Cobalt has proven to be reliable in numerous paint formulations. Our ECOS ND products move beyond the safety and environmental issues associated with traditional cobalt carboxylates, thanks to our innovative cobalt polymer technology.  

By incorporating the metal into a high molecular weight matrix, its bioavailability decreases, thus eliminating human and eco toxicity without compromising drying performance.  

Alongside our pure cobalt polymer products, we also offer a broad selection of cobalt polymer mixes, providing multiple drop-in replacement options for currently used carboxylates. 



ECOS ND 15 3 D60
Cobalt polymer drier with 3% metal content,
diluted in a dearomatized hydrocarbon mixture with a flash point of 60° C. 
ECOS ND 15 Aqua
Cobalt polymer drier with 3.5% metal content. 
Suitable for water-based applications. 
ECOS ND 15
Cobalt polymer drier with 4% metal content. 
ECOS ND 15 5
Cobalt polymer drier with 5% metal content. 
ECOS Mix Neo
Cobalt polymer mix driers with either/and barium, calcium, zirconium, zinc.
Grades for water-based applications available (ECOS Mix Aqua). 
Innovative Rubber Adhesion Promoters
Our innovation efforts to limit cobalt's bio-accessibility extend beyond the paints, coatings, and printing ink industry.  

For our portfolio of rubber adhesion promoters, we have developed safer alternatives that address the uncertainty surrounding the hazardous properties of traditional cobalt compounds. The ECOS NewRAP product line incorporates cobalt into a polymeric structure, effectively addressing hazard concerns. 

In addition to its restricted bio-accessibility, ECOS NewRAP also delivers superior adhesion performance compared to market standards. 



ECOS NR 6
Boron-containing cobalt polymer with 14-16% metal content. 
Used as rubber adhesion promoter in steel-reinforced rubber applications. 
ECOS NR 14
Cobalt polymer with 15,5-17,5% metal content. 
Used as rubber adhesion promoter in steel-reinforced rubber applications.