Our recycling process
An internationally recognized process
By combining a unique pyro-metallurgical treatment and a state-of-the-art hydro-metallurgical process, Umicore is able to recycle all types and all sizes of Li-ion and NiMH batteries in the most sustainable way.
The Umicore pyro-metallurgical phase converts the batteries into 3 fractions:
An alloy, containing the valuable metals Cobalt, Nickel and Copper designed for the downstream hydro-metallurgical process.
A slag fraction which can be used in the construction industry or further processed for metal recovery. The slag from Li-ion batteries can be integrated in standard Li recovery flowsheets trough a cooperation with external partners. The slag from NiMH batteries can be processed to a Rare Earth Elements concentrate that is then further refined through a cooperation with Solvay.
Clean air, released from the stack after it has been treated by the UHT's unique gas cleaning process.
The pyro-metallurgical step deploys Umicore's unique UHT technology. The UHT technology is pushing the boundaries for recycling and sets a new standard in Best Available Technology for metallurgical recycling processes. It is designed to safely treat large volumes of different types of complex metal based waste streams. It differentiates itself from other recycling technologies, by
A higher metal recovery compared to existing processes and the output of directly marketable products.
Direct feeding of the batteries, which avoids the need for any potentially hazardous pre-treatment
The gas cleaning system, which guarantees that all organic compounds are fully decomposed and that no harmful dioxins or volatile organic compounds (VOC's) are produced. Fluorine is safely captured in the flue dust.
Reducing the consumption of energy and CO2 emissions to a minimum by using the energy present inside the battery components (electrolyte, plastics and metals).
Generating close to zero waste

By recovering strategic elements like Cobalt and Lithium from end-of-life batteries, Umicore is leading the way towards a circular economy, providing solutions to the growing demand for sustainably sourced materials.
With an installed capacity of 7.000 metric tons per year, the UHT furnace in Hoboken is one of the largest dedicated recycling installations for Li-ion and NiMH batteries in the world.
7.000 mt =
± 250.000.000 mobile phone batteries
± 2.000.000 E-bike batteries
± 35.000 EV batteries
In the subsequent hydro-metallurgical process, the alloy is further refined so the metals can be converted into active cathode materials for the production of new rechargeable batteries.
Since long, Umicore is a leading supplier of key materials for rechargeable batteries used in portable electronics and hybrid & electric cars.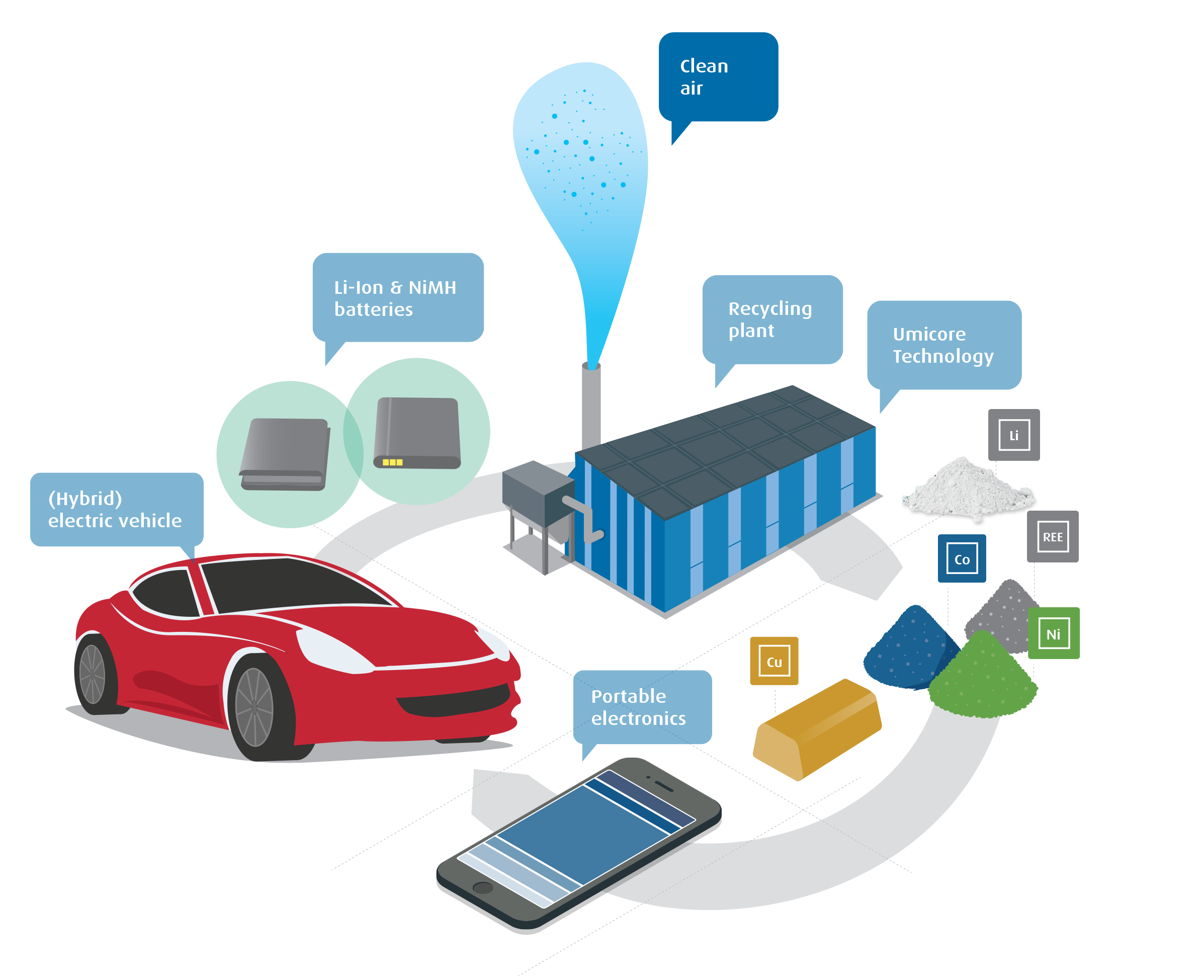 Why Umicore?
The correct disposal of dangerous waste material like end-of-life Li-ion and NiMH batteries can be complex and at times worrisome. That is why Umicore works hard to provide comprehensive peace of mind solutions to OEM's and battery collectors around the globe, through:
How can we help?
E-mail directly:
Tool Materials
Ceramics and Chemicals
Umicore Bruges
Battery Recyling